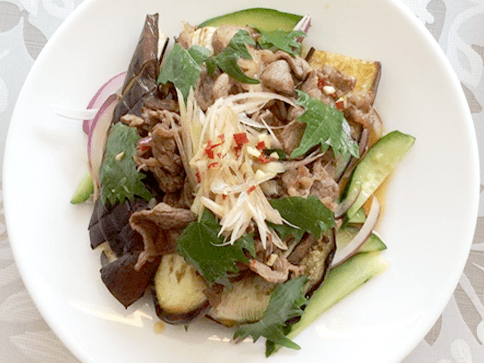 Ingredients for 2servings
100g beef
2 servings(small) eggplant
1/4 red onion
1/2 cucumber
4 shiso leaves
Corianders, mint leaves, herbs to taste
◆ 1 teaspoon Buri soy sauce
Black pepper to taste
1 tablespoon oil
MEMO
Buri soy sauce dressing lasts 3 to 4 days in the fridge. All-purpose sauce for vegetables, meat, and fish to give an ethnic flavor to your usual meals.
1. Make Buri soy sauce dressing. Chopping red pepper, and remove the stem and seeds. Dissolve sugar in water and mix all ingredients well.
2. Slice the red onions thinly. Cutting a cucumber in half lengthwise and slice diagonally. Wash herbs well and remove the stems.
3. Remove a stem from an eggplant and slice lengthwise into 4 pieces. Put it into water to remove the scum, and then pat dry. Cut beef into bite-size pieces.
4. Heat oil in a frying pan and cook both sides of the eggplant (3). Remove and set aside when it becomes tender.
5. Put the oil and the beef (3) into the pan (4) and fry it. When it is cooked, add pepper and finally turn the Buri soy sauce.
6. Place the red onion and cucumber (2) on a serving dish, then arrange the eggplant (3) and beef (4) and herbs on the top. a nice aroma with Shiso leaves torn roughly by hand.
7. Pour Buri soy sauce dressing (1) on (6) as you like.